Green.Peter. Lead guitarist in the original, blues-based, all-English lineup of Fleetwood Mac. Revered in his days as a virtuoso on the order of Jimi Hendrix and Eric Clapton, Green abruptly withdrew from the spotlight in 1970 amid stories of Syd Barrett-like drug intake and mental illness. After more than two decades of intinerant living, during which he sojourned on an Israeli kibbutz and sold off all his guitars, the once-lithe Green reemerged in the early 1990s as a rotund, Dickensian figure in a crocheted skullcap, playing Robert Johnson songs with a small blues combo. Don't give me that "Rhiannon" crap; the real Mac is the sweet sound of Peter Green playing "Black Magic Woman." (The Rock Snob's Dictionary, p.49)
It  did not seem a great omen that Peter Green did not attend a recent all-star tribute in his honor, everyone from Pete Townshend of The Who to Billy Gibbons from Z.Z. Top, Metallica's Kirk Hamnett to Green's one-time bandmate, drummer Mick Fleetwood. Then again it was Peter Green one was thinking of, a figure who rivaled the aforementioned Syd Barrett for being a rock 'n' roll reclusive and drug casualty. Who could expect anything from Green since his heyday–50 years ago.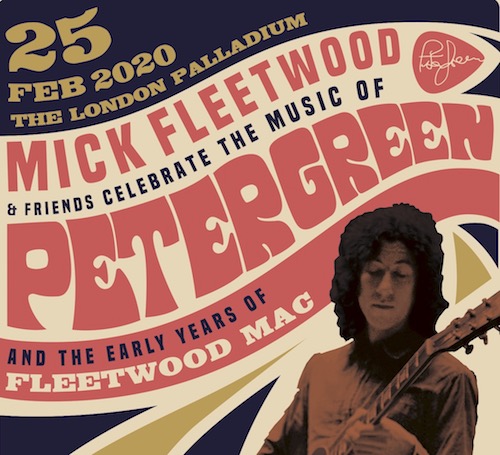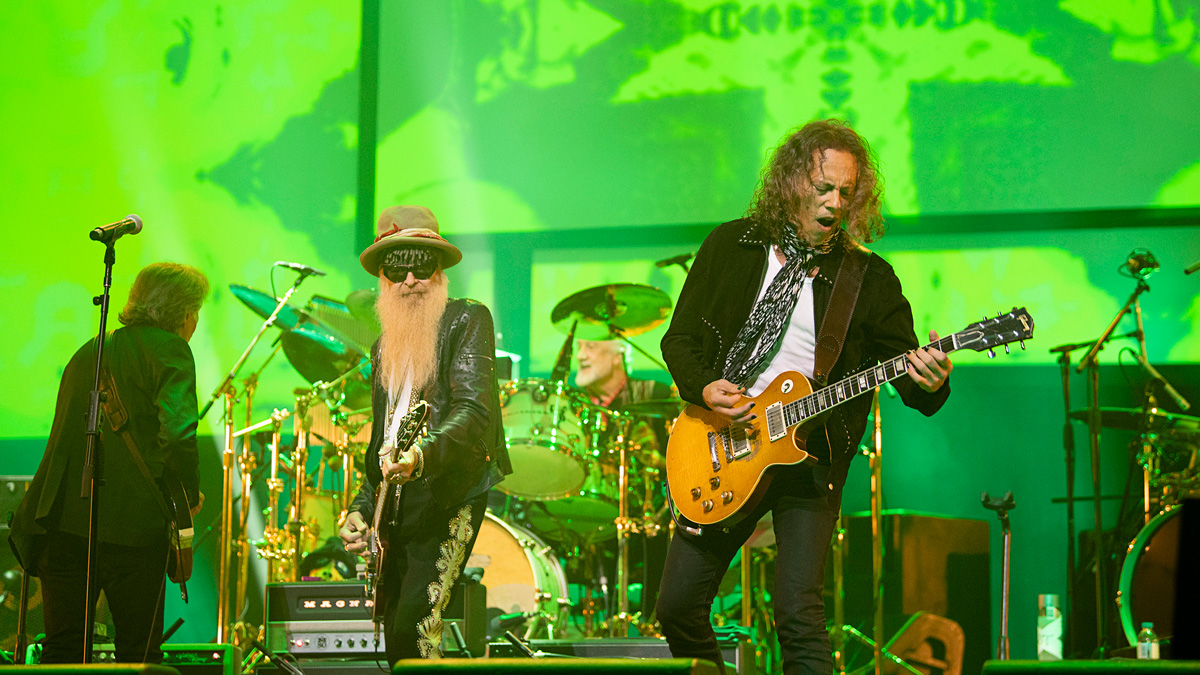 For some Green's death will pass unmarked or barely acknowledged. Reduced to a flickering Twitter trend, a trivial pursuit of a question. "You mean Fleetwood Mac existed before Stevie Nicks and Lindsey Buckingham?!?"
But a select few will mourn the vital loss of a unique bluesman, a contender who exhausted his own flame at its very peak of visibility. Even among a cadre of his peers from the Sixties–those white English lions such as Eric Clapton, Jeff Beck and Jimmy Page who begun imitating Black American blues guitarists before stumbling onto their own voicings–Greeney was cut from a wholly different cloth.
I must confess that I only acquired my adoration for Peter Green a decade ago, even though I have been following Fleetwood Mac in its various incarnations since the late Seventies. Mac did begin for me when their eleventh studio album Rumours, fueled by recruiting an American couple into their otherwise English lineup, sold more than 20 million copies.
I never ventured deeper into their catalog past the Fleetwood Mac album although I did occasionally finger some older releases in record store bins over the years. A local rock radio station would spin a few cuts from the Bob Welch era once in a blue moon but nothing enticed young and dumb me to investigate the band further than when Lindsey Buckingham and Nicks entered the equation.
Even then I remember Peter Green's name and the band's mysterious past as an English blues-rock outfit ink lodged in nearly every serious article about the band. These press pieces treated the band's evolution as an aside, even a sneering aside. Look at what they achieved when they put away those silly notions! From blues wanna-be's to the best selling pop band in the world! was implicit in what was otherwise treated as a quick aside.
Meanwhile in the guitar periodicals I devoured Peter Green's Fleetwood Mac and his early solo career were lionized by American writers. Unknown to the masses who consumed only the pop hits from Mac's triumverate of writers(Nicks, Buckingham and Christine McVie), Green's epoch had not been forgotten by a fervent cult.
Yet I continued to resist any inquiry until I was awakened from lethargy by stunning passages from the great, great cultural critic Greil Marcus in 2010. In his brilliant monograph When That Rough God Goes Riding: Listening to Van Morrison, while reviewing Morrison's twenty-sixth studio album, The Healing Game, Marcus invoked a familiar yet obscure name, as if remembering a fallen deity:
The deep grounding of The Healing Game makes me think of the original Fleetwood Mac, the finest flowering of British blues, formed by Peter Green in 1967. As a blues guitarist, Green, who had earlier replaced Eric Clapton in John Mayall's Blues Breakers, had by 1970 been and gone from places–places in the heart, places in the blues–Clapton would never get to. Compared to Them[[Van Morrison's first band]], Fleetwood Mac was a purist band, in quest of the spirit of the Mississippi blues of the 1920s and '30s–though while Them was purist in its own way, in its refusal of the slightest suggestion of levity or even peace of mind, Fleetwood Mac made room for the most raucous rockabilly humor and mercilessly funny parodies of the British blues scene. It was a band of many parts–but while he remained Green was always its center. He played an occult blues, a fantasy blues, wher in his most lucid songs and performances–in "Man of the World," "Long Grey Mare," "Albatross," "Trying So Hard to Forget," "Love That Burns," his guitar playing alone on "Something Inside of Me"–every element was slowed down and emotions appeared only to decay.

As a singer, he sang in his own voice. There was never any doubt that he was white and English–and, maybe, little doubt that he was Jewish. The remorse in his voice, you could think, wasn't for the love he'd lost or the life that failed him–the predicament that, sometime around the end of the nineteenth century, the blues was invented to affirm. It was a sorrow over his conviction that as a white, Englishman the blues would always be out of his reach. It was that conviction, though, that sense of displacement, that made his blues ring so true: a conviction that in Green's highest moments gave the lie to itself. Over all the years [Marcus has] listened to his "Love That Burns," trying to keep up with the tragedy it enacts, waiting for the closing guitar part that comes when words have taken the singer as far as they can, but not far enough, forcing him to leave words behind and plead with his bare hands, [Marcus] [does not think [he's] ever been able to play it twice in a row. it is just too strong.
Seduced by that passage I rushed headlong into Greenology and have never really returned, better late than never. I don't agree entirely with Marcus's assessment–his take-down of Clapton is far too harsh and myopic. Yet he served as a John the Baptist to my conversion.
There is a mysticism to Green which is wholly absent from either his peers and maybe even his progenitors. It's easy to imagine that if Green had not been waylaid by his copious amount of drug usage and mental health issues his popularity and productivity could have rivalled Clapton's, who shares some of Green's vulnerability and pathos.
Or Green could have mirrored Jeff Beck. He too was heading toward a jazz rock synthesis or "fusion" before his breakdown and disappearance. Like his peer and foil, Beck is a virtuoso whose playing is more "external" than "internal," rarely communicating anything of the personal life of the player. The skills are always present and admirable, yet so often fail to convey an interiorized landscape to their emotions.  Beck's fingers are magical, yet he is more mechanic than surgeon, whereas Green was all alchemist.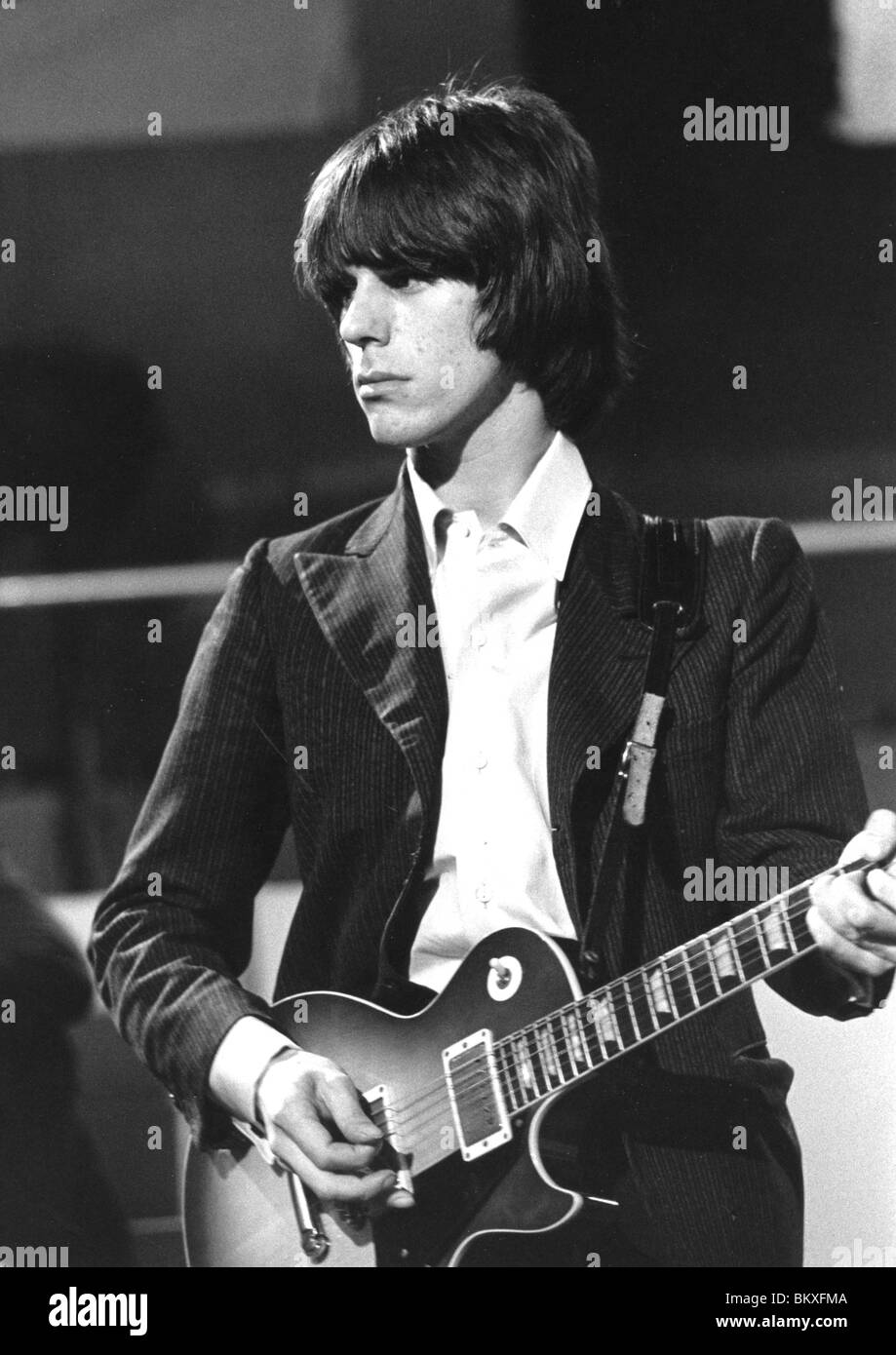 Nor was he inclined to the showy, exhilerating bombast of Jimmy Page. There isn't much "psychology" to Page's playing. American rock 'n' roll animated Page rather than cause him to question his existentialist feelings. Led Zeppelin is still seen too often as a blues–or blooze –band, even now. Yes, the Mississippi Delta is in their adopted ancestral bloodlines, which streamed from the state to the south side of Chicago. Yet many people conviently ignore the other Mississippian so integral to their sound and personae–Elvis Aaron Presley. Like with his one-time bandmate Jeff Beck, Page is so indebted to rockabilly that it hovers above his head like a neon halo. Yes, many Black American bluesmen were flashy(think Buddy Guy, for instance), but the white rockabilly and country guitarists who influenced these two former Yardbirds introduced a new favoring and stance to their musical persona.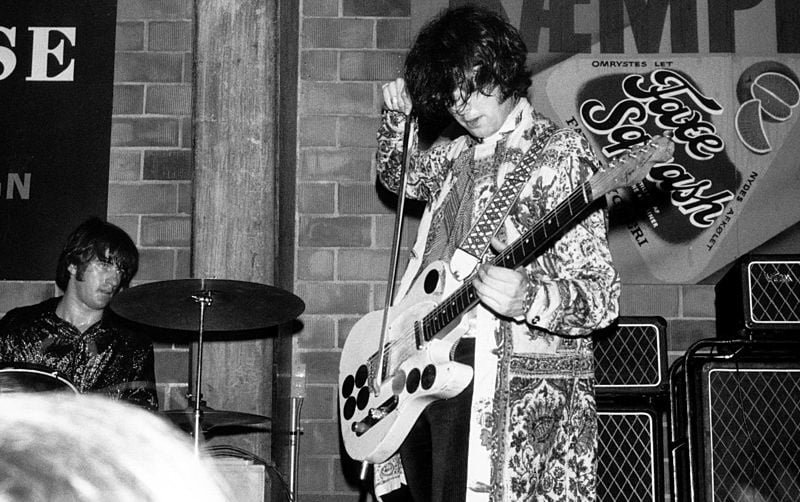 And while there were white influences in Green's playing–I'm sure he was taken by both Les Paul's lightly swinging jazz and the sound and timbre of Nashville pedal steel guitarist–he distilled them in a completely different manner.
David Gilmour of Pink Floyd fame is also an intriguing comparison. Like Jimmy Page, he too was in a rock group depended upon him to assert more than an usual share of cockiness, of true rock swagger. Yet unlike Page, his solos wallop you with an added visceral liquidity. As much as I truly love Page and Led Zeppelin–and they still remain my favorite band of all time–they seemed too happy to ever have the blues. The occasional melancholia which elevated ballads like "Babe I'm Gonna Leave You" and "Kashmir" were more likely to originate from other traditions, folk and Eastern music, rather than the blues. With less frequency than we imagine did a more traditional blues form alone induce them into an emotional transcendence: "All of My Love," "I'm Gonna Crawl," "Tea For One."
For Gilmour the blues has been a springboard for the voracity of his solos. He may nail similar points as Green, but as with Page and even Clapton his tone is far thicker than Green's. He lacks Page's need to strut along the fretboard while mirroring a more existentialist angst favorable to Green's.
Hesitancy and economy are what separated Green from his countrymen. (George Harrison had the latter, but not the former.) There was a stream-of-consciousness to his playing which resisted staid blues lick patterns and runs. The space between notes haunted as much as the notes themselves. A lot of blues-rock guitarists can make their notes "sting" and "sizzle," Green's guitar articulated a more profound weariness, a dread of reality even before his "troubles." As Greil Marcus alluded to, perhaps there really was a racial component triggering a more cautious vulnerability vibrating his music.
The brilliance of "Man of the World" captures this mode in breathtaking detail: the weariness; the pathos; an alienation from every one and everything. I especially love the "early version" for its revelations:
B.B. King once saluted Green's "sweet" tone, as high a tribute as one could receive. There was a lilting, Polynesian tone to Green's playing evoking both the timbres of Hawaiian guitar maestros and Nashville pedal steel veterans. The notes shimmered and skittered, introducing an uncommon modality to his blues roots. Maybe he too was a devotee of Django Reinhardt, the same as B.B. King–and Willie Nelson.
Green's attention to nuance, shading and space anticipated Mark Knopfler's gifts by more than a decade. Vocally by avoiding the over-exaggerated, minstrel-ly shenanigans of so many of his pale countrymen, he remains a pleasure to listen. It's not a treacly experience in today's environment to hear Green cover blues standards.
Green's sensitivities also extended to the stunning instrumentals he crafted, many of which intentionally or not harken back to the most luminous(and ubiquitous) anthems from 1959, "Sleepwalk." Just as the Santo & Johnny composition blended steel and electric guitar so smoothly one could not discern the differences between the two, Green's guitar stylings followed suit. And it's also telling that "Albatross" and "Old Grey Mare" avoid scalular pyrotechnics, ruminating with cinematic ambience.
Barrett's absence haunted Pink Floyd for more than a decade, stretching as far as the adequately named concept album, The Wall(1980), even though the sounds which captivated their millions of international fans bore no resemblance to the pyschedelic ditties spun by Barrett when the band was under his direction and were better known as The Pink Floyd.
In Green's absence, Fleetwood Mac lyrically/musically did not express any guilt about his omission as they advanced toward mega stardom. No Dark Side of the Moon nor Wish You Were Here emerged from their pens. Co-founder Mick Fleetwood mourned his friend's trajectory, often speaking beautifully and poignantly of his influence upon him as a musician and person. A few songs associated with Green remained a part of their live show, which was its own acknowledgement.
During his vanishing act guitar fans obsessed as much or more over Green's iconic Gibson Les Paul Gold Top, detailing its colorful history and changing of ownership. (The late Thin Lizzy guitarist Gary Moore was the first most notable holder, Metallica's Kirk Hammett allegedly paid $2 million for this Excalibur.) 
Enhancing the mysticism of Greeny was the guitar itself. No ordinary 1959 Gibson Les Paul(a holy year for the make and model) it was special beyond its beautiful butterscotch varnish covering. As with most myths and legends the story changed depending upon who was telling the tell. In one version Green suggested that the guitar changed its custom tonal palette(the warm, rich, sustain-heavy hues Gibson humbucker pickup guitars are noted for as opposed to the thinner, trebly, percussive range of Fender guitars) when he began tinkering with the pickups himself. In another story he took the guitar to a repair shop for a routine matter and the technician accidentally rewired the neck pickup. Whatever the truth the guitar acquired an "out-of-phase" tone when activated which made this Les Paul sound like no other: a more nasal-y, treble honk reminiscent of a Fender Stratocaster. It drove his contemporaries and fans crazy. And still does.
Green's life was its own sad, sad blues solo. There's elements of Dostoevsky to his story, elements of Syd Barrett, elements of Antonin Artaud, Nijinsky and other fabled mad men. The superlative documentary Man of the World is essentially for any further understanding of the man, the music, the myth and the madness. His music was otherworldy and so was he. May he rest in peace.