THE ABOVE MEME IS EXACTLY HOW I FEEL ABOUT DIANA RIGG. IF YOU ARE over 50 and of a certain sexual disposition the death of Diana Rigg might have sent you into a sadness at her loss and the bittersweet memory of how many of us first discovered her in the first place. That would be her groundbreaking, iconic role in the British TV series, The Avengers. (NOT to be confused with the Marvel comic books–and movies--which share the same name.)
Those under 40, well under 40, probably did not know a show called The Avengers even existed. Nor could they imagine Dame Diana Rigg as ever being young and unbelievably sexy. They probably never even conceived of her as having been once their age. For them Rigg was always and only Lady Tyrell of Highgardens from Game of Thrones; a scheming dowager with a funny, vicious tongue whose story arc was truly Shakespearean.
To only focus upon those two roles of Rigg's career is of course a disservice. Over many decades she was acclaimed across all the media made available to her: stage, screen, television. Yet as with one of her peers, Dame Maggie Smith, her late-career populist crowing achievement on television virtually overshadows all her other credits, even if they extend for decades. Dame Maggie Smith is synonymous with Downton  Abbey(2010-2015), not Travels with My Aunt(1972) or Californian Suite(1978).
However upon news of her death, those two roles, symbolically alpha and omega, flashed before me and those images have remained.
Initially a late comer to Game of Thrones(around Season #4) I had a very Proustian reaction upon discovering Rigg had been cast as Olenna Tyrell. Profound, irrational shock.
I was more than a bit like the hypersensitive, asthmatic narrator in Le Temps retrouvé (Time Regained or The Past Captured,1927) who returns to high society Paris after both a lengthy stint in a sanitorium and World War I and is astonished at not only how dramatically his circle has aged but also how his mind has played a common trick on itself:
If we become separated from figures in our past although we rationally expect for them to age during the process of this estrangement, somehow our more shall we say romantic or idealistic nature encases their memory in amber, thus somehow remaining immortal. However if we meet up again with these same individuals we are greatly disturbed that their "present" does not match up with our memory of them, which is fixated upon the past.
In other words I couldn't believe that this was the same woman who fascinated me as a child, that this old woman had ever been so fascinatingly young. Doltishly I clung to the notion that there could be two Diana Riggs, that somehow the British version of the Screen Actors Guild would allow for such an occurrence. Eventually reason held sway.
Why such a fixation? Because I had been exposed to syndicated reruns of The Avengers(1961-1969) at a formative age which left a subjective imprint on me. Somehow it remained consciously unexamined for decades until discovering Rigg as Lady Tyrell.
The series existed before Rigg and then after her famous departure, but her tenure during the long-running show made both iconic. Five or six years after the show had ended I was an innocent school boy watching reruns from its heyday. Most of it was surely above my head, but my reaction to the often catsuit-ed Rigg did not need much clarification.
The show later attuned me in developing an Anglophilia I have yet to truly shake,  discovering "Swinging London" and obsessing over the likes of the early Rolling Stones, of Jeannie Shrimpton and Blow-Up.
Rigg and Rigg as "Emma Peel" was representative of this, an archetype of feminine wits, intelligence and–of course–beauty and sex appeal. A decade later American television would make a triplicate of the character for its own long-running espionage show: Charlie's Angels.
Rigg essayed Emma Peel with a knowing wink, a keen intelligent sparkle that Charlie's Angels always lacked(although Kate Jackson might have scaled such heights if her character had allowed to have been sexier not just the "brainy" one). She appeared to be delighting in the role, laughing at the campiness of being a sexy spy, gently mocking the role–and the audience's response.
Leaving the show one of her first major roles was as James Bond's wife in On Her Majesty's Secret Service(1969); because of circumstances remains one of the most curious entries in the franchise. Sean Connery had made his exit; Roger Moore had yet to make his entrance. George Lazenby cast as Bond made no one happy and the press countdown to the End of Bond began to beat its drums for the first but not the last time.
Cue 2020 when we are expecting once more the Last of James Bond and cries from predictable quarters that Bond should be played by a Black, by a woman, it's curious that no one mentions that Rigg could have taken over the role back in the Seventies, or a character similar to Ian Fleming's creation.
Peel was a female James Bond, a character too who traded upon her looks, breeding, keen intelligence,wit, cunning and ingenuity. And Rigg radiated a charisma comparable to the main gallery of actors who portrayed Bond: Connery, Moore, Pierce Brosnan. She was dashing, magnetic, posh yet approachable, thoroughly English, with a dose of mystery. Alas, it was not to be.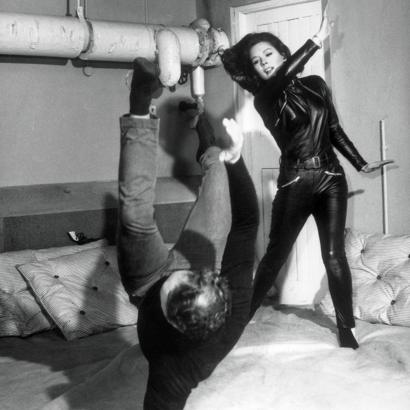 Rigg did not stop working but no other role captivated for her an international calling until decades later. She had won every statue save for an Academy Award and been recognized twice by her country's Royalty, yet for more than a few of her original American fans she had seemed missing in action for the greatest chunk of her career. Unlike some of her country people by not avidly seeking casting in Hollywood films she had been practically "invisible."
But her first appearance on the show in 2013 changed all that. She stepped onto the stage of a show that was not only a hit but an international cultural phenomenon. By season 3 GOT had stopped being a show "about" dragons, an army of zombies, a frozen wall not unlike the Great Wall of China and an "imp" the way The Sopranos in its own ascension quickly stopped being a show just "about' gangsters. The stakes were suddenly higher than genre exploitation. Both series began to rival the complexity of novels, whether or not they derive from literary sources(which of course GOT does), and upscale to the Shakespearean, which is hardly common for a medium such as television.
It's a common trope for actresses and critics to comment that many of them go so quickly from the  ingénue to the leading lady and then to the mother and grandmother when being cast for roles. Neither Anne Bancroft nor Angela Lansbury were old enough to portray maternal figures to Dustin Hoffman and Frank Sinatra in The Graduate and The Manchurian Candidate respectfully, but when has Hollywood ever been governed by logic?
We who are in the curious public will probably never be privy to any private conversations Diana Rigg may have had with Dame Maggie Smith about the coincidence of both of them being cast as similar characters in hit television shows at the same time. Both roles that only old women could star in. Of the common practice in both English and American films and televisions for stately actresses of a certain age to begin appearing as matronly gargoyles: rapier-tongued dowagers, easily mistaken as harmless grandmothers yet who are as cunning and manipulative as Lady MacBeth.
Once a staple of the horror film these roles prey upon the audience's fears about aging and often unspoken repulsion about aging women in particular. What value does an old woman truly hold, they seem to ask. Who or what is a woman when she loses her looks?
If the actress is known (take for example Bette Davis and Joan Crawford), the audience may feel some "pity" when considering her? Once upon a times she was X, now she is "Y." Societal taboos about elderly women are now targeting the familiar actress in detrimental ways, nearly all the jibes centering upon her supposedly diminishing looks and "attractive" qualities. Thus all the putdown comparisons to Medusa and gargoyles, witches and crones, etc.
Yet Rigg's public pronouncements were not of self-pity nor delusion. Once she remarked the she "couldn't ask for better lines–I could be sitting at home crumbling but I'm not."'
Rig could also poke fun at her matronly costume centering upon always being seen enclosed in a wimple, yet she was adept about the appeal of the character. For five years Rigg could enthrall audiences with a delicious role in which her every cameo was duly noted on social media for her scene-stealing abilities.
As Emma Peel–a pun of a name I'm only probably now recognizing–in the alpha phase of her career Rigg employed all her good fortunes inhabiting the character. And at the end she performed a similar trick, yet with more profundity. In the "game of thrones" Lady Tyrell was not destined to sit on the Iron Throne governing the Seven Kingdoms. Yet she was the equal or greater of any of the chessmasters on the show, as anyone who followed the progression of events from season one onward.
More than caustic put downs and grandmotherly authority, she remained the real authority of power for her clan until her family was decimated at the hands of another great family, a reign stretching decades. Not bad for a kingdom of great harvest yet limited in its military capacities (to which she alludes to, lamenting that no sigil whose banner was of golden roses could be expected to do wonders on the battle fields). From marrying off her attractive family members to subterfuge she nearly had a perfect track record of keeping envious armies from seizing her fertile grounds.
Diana Rigg, like the other fine actors on one of the greatest shows ever on television(and I include the shamefully wretched Season 8 in my equation), could make you believe this nonsense, as if you were watching a teleplay from a Greek tragedy or Chaucerian tale. A lifetime of exceptional acting crystalllized her performances, and while she doled out the verbal zingers what was recorded did not approach campiness. Rigg wasn't winking at the audience, so he humor of her lines became well-earned and organic to her character. Simply it was a tour-de-force.
By coincidence I was watching her final appearance on GOT a few hours before I learned of Rigg's passing. Lady Tyrell's final aria in an episode appropriately entitled "The Queen's Justice"(2017) was so wonderous that it's become one of my favorite set pieces, go-to moments when I'm missing the show. I look at the show with more regularity than I do other series from the last Golden Age of Television(The Sopranos, Mad Men, Breaking Bad), not complete episodes per se but my favorite scenes over and over. So many of them do involve Rigg/"Lady Tyrell" which I had realized even before mourning her death.
No matter what one thinks of the show's two producers/creative leaders David Benoiff and D,B. Weiss–which is a loaded questions among the show's fans–even they had the good taste to allow Rigg/Lady Tyrell to have one of the finer exits in the history of the series. It Shakespearean. Which was fitting for and of her.
To be remembered for two roles is better than not to be remembered for any.
May she rest in peace.