GWEN BERRY, "American" track and field athlete.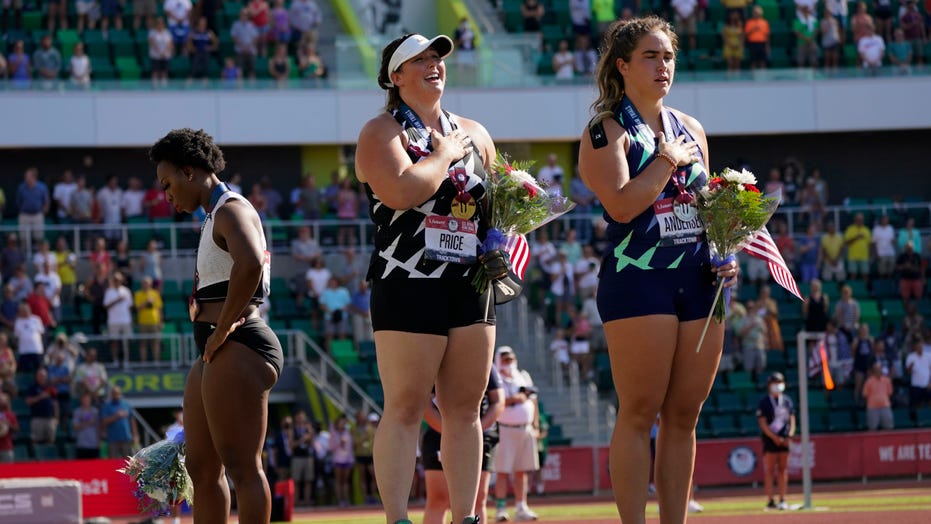 Say what you want about Colin Kaepernick he never behaved like this. Her display on the podium was as embarrassing and disgraceful a moment as any I could ever recall or bothered to Google. As someone on Twitter noted watching Ms. Berry was like watching the temper tantrum of a toddler not the actions of a supposedly grown woman. Rare would I find myself agreeing so wholeheartedly with the pro-wrestler turned Fox News commentator Titus but a broken clock is correct twice a day. If she is so aggrieved by American and the National Anthem why does she even want to represent the country at the Olympics? That anyone defends her is even more proof of the decadence which has befallen us this century. She disgraced herself, her causes, and this country. 
"FREE BRITNEY!"
The Last Great American Lolita is approaching middle age in a court battle for control of her finances which has captured the attention of many of us, including the Great Grey Whore of journalism known as the New York Times. Much has been written about Spears over the year, and deservedly so. She's been fascinating every step of the way and a prism for everyone from feminists to conspiracy theorists. But very little has been detailed about her father, who is beginning to look more and more like the second coming of Vernon Presley.
HALSEY/NIN
The Internet buzzed on Monday 6/28/21 from the press release that Halsey's 4th studio album was produced by Trent Reznor and Atticus Ross. If not an outright shock then an upturn of the eyebrow. The pairing seems to be odd. The former a Millennial pop singer known more for being an agent provocateur than the exact quality of her music. The latter middle aged "cisgender" white men now identified as two time Oscar-winning film composers and less and less as members of the once seismic industrial art-rock group Nine Inch Nails, initially an one-man project founded by Reznor. 
Not even the revelation she's half Black can interest me(so is Mariah Carey, infinitely more talented) in Halsey. Conversely the Reznor/Ross "ambient"  soundtracks are in heavy rotation in my life while any further "industrial rock" NIN release scarcely whets my appetite.
I guess I am curious about what this is about—as long as I don't have to pay for it.
KYLIAN MBAPPE'S COMEUPPANCE.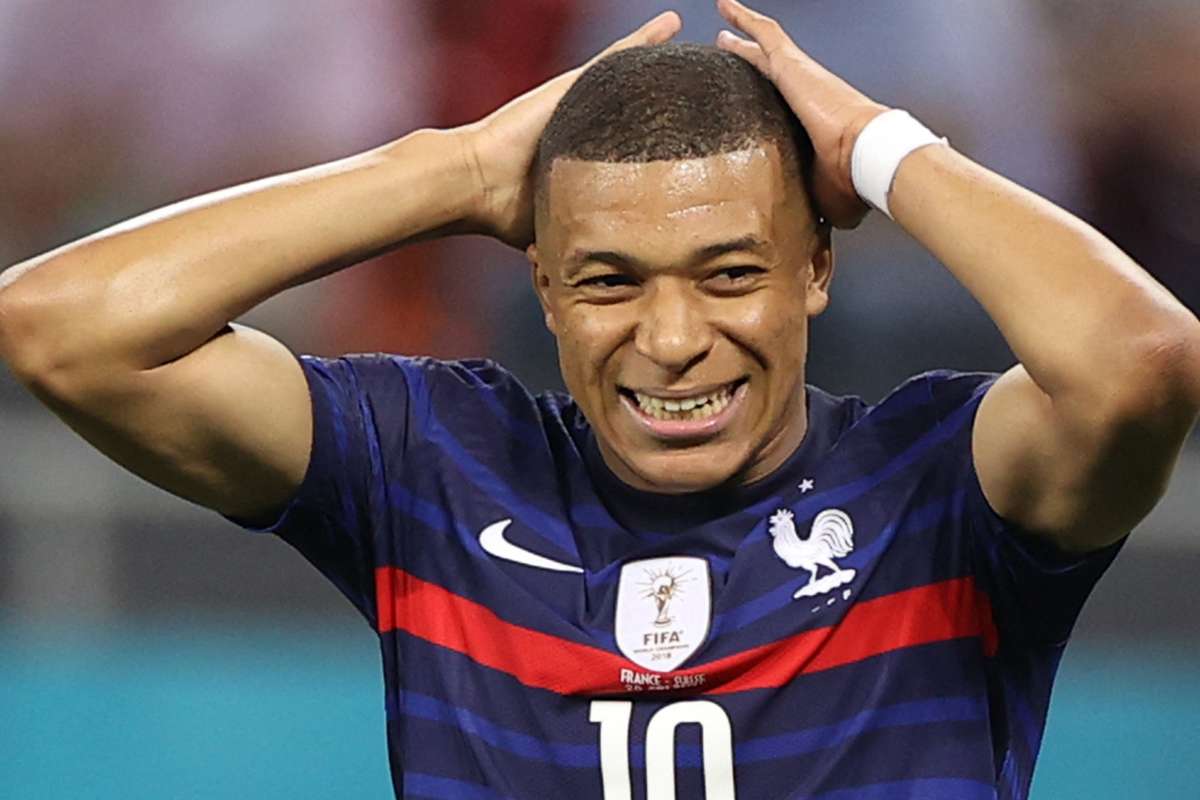 Penalty kicks…no one makes all of them not even the biggest and greatest stars in football. Cristiano Renaldo makes them look routine, but that's just not the case. He's missed a few too. His great rival Lionel Messi seems to miss a bunch of them.
Still, there was something satisfying about France's great young star missing the decisive penalty kick in their shocking loss to Switzerland during the knockout round of the 2020 UEFA European Championship.
Since electrifying football fans at the age of 19 when France won the World Cup in 2016, becoming the youngest player to score in a World Cup final since the incomparable legend Pele, Mbappe has lately become a polarizing villain. He's itching to leave his home team of Paris St. Germain for more notable pitches(Real Madrid is his rumoured destination), even more exposure. Other than Messi who has been at La Liga rival Barcelona his entire career, although his retiring there seems ever more unlikely, footballers move around quite a lot. They hop from team to team,  country to country, league to league(Renaldo, David Beckham, Wayne Rooney, etc.), just like the top managers. His supposed desire to leave PSG has definitely ruffled French fans, while his supposed arrogance has riled international fans of the beautiful games. Although he had defenders, Twitter predictably lit up to consider his failure when his national team needed him most. I resisted but I certainly devoured the feed.
PAUL POGBA'S COMEUPPANCE. 
Les Bleus's other lighting rod continued his schizophrenic career. Football fans wonder why he is so electrifying when striking for his national team yet so disappointing when playing for Manchester United? The Round of 16 was the usual two sides of Pogba. He scored a hot goal in regulation and was quick to bust some dance moves, when it looked like France would cruise over the overmatched Swiss.
But later his carelessness sealed France's inept ability to close out the match during the end of regulation.
Then during his penalty kick he stared down the goalie for what seemed five minutes before he nailed his penalty kick.
He's as punchable as Mbappe even in the best circumstances.
SPAIN'S OWN GOAL VS. CROATIA, 2020 EUROPEAN CHAMPIONSHIP, ROUND OF 16
Goalies. He's damn lucky his team went on to win in the round of 16. Because it's so boneheaded a play, an unicorn of mentally wandering deficiency, so unbecoming of a world-class goalie on this level it will never be forgotten. But if Spain had lost 1-0 Unai Simon would have never been forgiven.
TRAE YOUNG, BUDDING NBA SUPERSTAR. AND SUPER VILLAIN
The scrawny attention-seeking point guard is exactly the type of "villain" the NBA needs. There's no hint of off-the-court troubles for those who need to despise him. It's his (mild) showboat-y gestures and cockiness  which have set aflame the 2021 NBA playoffs. He embraces his role as the visiting player the fans love to hate,a la Reggie Miller, and the league is better off for it. (Hall of Farmer Miller was a better shooter, but Young has the potential to become a better scorer in comparison.). Battling an ankle injury before Game 4 of the NBA Conference Championship against the Milwaukee Bucks tonight with his team trailing 2-1in the series, the Hawks' unlikely deep run in the Playoffs may be coming to an end but not his stardom. I couldn't stand the guy since his prominence began at the University of Oklahoma but I have to admit he's turned out to be a much better pro than I could imagine and watching him perform lately has been both eye-opening and wonderful theater. 
THE FOREVER PURGE
(2021) FILM TRAILER.
Happily I've avoided the series as I have little tolerance for horror porn or horror in general. If other people love the genre I'm fine with it, but the form is not a priority. But I must admit to some interest in the latest installment, inspired by this terrific trailer. My curiosity is piqued by what does the franchise's latest effort reveal as a response to both the pandemic in health and the pandemic in politics. In other words what does the Purge say about 2021. Plenty, I hope.
JONI MITCHELL'S ANNOUNCEMENT OF
BLUE 50 EP
AND
ARCHIVES VOL.2: THE REPRISE YEARS(1968-1971)
Maybe the reissue of the year.
Count me in, count me in. 
THE MANY SAINTS OF NEWARK(2021) MOVIE TRAILER
Ditto.