ALL RED HOT CHILI PEPPERS since 1989's Mother's Milk are judged by whether or not John Frusciante is onboard as their guitarist. Period. It doesn't matter that the Chili Peppers existed for five years before a then teenage wunderkind joined the band and they have existed for much chronicled periods when he took lengthy absences from the band. All Red Hot Chili Peppers albums and tours are judged by whether or not John Frusciante is onboard as their guitarist. Period. It doesn't matter that the idiosyncratic duo of vocalist/frontman Anthony Kiedis and bassist "Flea" aka Michael Peter Balzray cofounded the group, that they are the DNA of this longstanding Cali funk-rock band, truly irreplaceable members. The status of Frusciante in the lineup is of paramount importance, especially to casual listeners.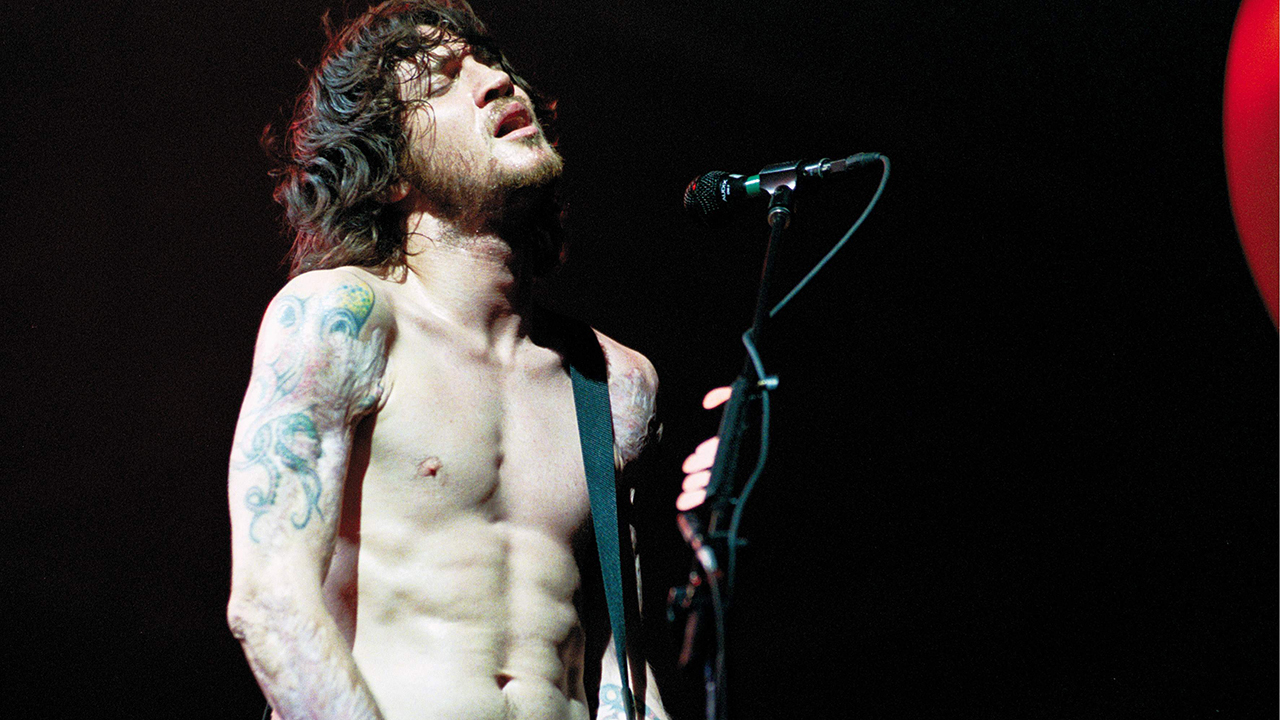 Frusciante, a notable eccentric but a guitar virtuoso, has been a consistent sparkplug for the band's stellar efforts. (I'm ignoring his off-key singing, although it must be noted some find that charming.) He's half Jimi Hendrix, half Marc Ribot or Zoot Horn Rollo as a lead guitarist and he's "in the pocket" as a rhythm player. It's those three modes–a post Hendrix-devotee, a purveyor of "weird" tones and approaches and a funkster–which makes him so compelling an addition to the band.
With or without Frusciante the band has always had a highly identifiable sound and image. To quote the band, if you have to ask you'll never know…Flea is always described in incredulous tones because no one believes anyone white has ever been so funky on bass guitar. Beside being a Will Ferrell lookalike Chad Smith is probably an underrated drummer, suitable for the band's muscular funk-rock strut. Kiedis has always been the most polarizing member of the polarizing group. He exists on a spectrum between Iggy Pop-esque hipster and frat boy caricature, spewing some of the more insipid, sophomoric lyrics and (lame) raps around, yet occasionally rising to drop stunning and vulnerable power ballads (certainly their mega hit, "Under the Bridge" but also "Scar Tissue").
Luckily the band was successful long before cancel culture and obsessions with cultural appropriation were upon us. But even by the late Eighties they were taken to task in mainstream quarters for their allegedly sexist lyrics, onstage antics bordering on the immature and offensive (occasionally performing in the nude save socks over their penises is sure to qualify), Kiedis's insistence upon "rapping" a decade before Emimen made it a little more "acceptable" for white artists to follow suit and the overall druggy, rock and roll version of the "Rat Pack" panache they cultivated. They have never been everyone's cup of tea, yet they body surfed on waves of real popularity.
 But even with 3/4ths of the band pushing 60 years of age they ain't changed all that much, for better or worse. They are indeftigably the Popeyes of rock and roll, take it or leave it.
It's also always a good sign when the Peppers reunite with star producer Rick Rubin, nearly as controversial as they are. As with Frusciante, Rubin had been away from the band for almost a full decade, and his absence has been felt as much. The "ultimate listener," Rubin helps the boys hone their craft in a more pleasing way than their other producers, from George Clinton to Danger Mouse, have fared.
Experience has shown you also judge a RHCP album by the first single (think "Dani California" from Stadium Arcadium or "Give It Away" from BloodSugarSexMagik). "Black Summer" did not sway me, yet there's more to the album than the opening track.
All RHCP albums are overstuffed, the band clearly indulges again and again in Blakean excess minus the beatific aspect. Even their greater accomplishments–during their glory run of Mother's Milk and BloodSugarSexMagik and Frusciante's first comeback on the needlessly double album Stadium Arcadium–suffer from a lack of pointed brevity. Seventeen tracks from the Peppers is always too much.

However the record sounds and feels so good, provided you are a Pepper fan and provided you're willing to grade them on a curve. Unlimited Love evokes some past glories while tweaking the formula just a little.
Psychedelic touches unexpectedly motif across the collection. "Poster Child" and "White Braids & Pillow Chair" announce this direction. 
You get the sense that Kiedis thinks "Poster Child" is his band's "It's The End of the World As We Know It (And I Feel Fine)" moment, as he gratingly rap-sings an inane survey of pop cultural references over the decades. More redeeming is this wrapper of psychedelic-drenched funk which pairs the slinky vocal melody against John's groaning wah-wah pedal.
You have to listen past Kiedis on "Here Ever After." I hate Eminem and he's no Eminem. But he's done worse. Still, it's a kinda shame to waste Chad's fine drumming and Frusciante's unison and call-and-response accompaniment, his overdriven tones making more of the song than it deserves.
There's also a weird or nostalgic Nineties-bent to some of the sonic approaches. "One Way Traffic" is a ridiculous, grating rap-funker the band should be embarrassed of, then the bridge slows into a brief grind reminiscent of Smashing Pumpkins only they did it a thousand times better.
"The Great Apes" could be a Lenny Kravitz outtake, featuring a particularly scorch-the-earth guitar solo, while "These Are the Ways" surprisingly evokes Jane's Addiction–or the period of the band when that band ended and Dave Navarro (one of my favorite guitarists )rebounded by joining the Chili Peppers after Frusciante left for the first time.
For all the (deserved) hype about Frusciante's return, Flea is the unsung hero of Unlimited Love. He's always been the most solid ace for the band, the blueprint, the groove meister. Often even the reason that the boys' shall we say more mediocre efforts like "Whatchu Thinkin'" and "Aquatic Mouth Dance" are bearable. The former captures some of Flea's deepest grooves on the album (along with glass-y funk chords scratched out by Fusciante). The latter is so over-busy in production (a recurring problem for the record) yet remains ear candy, although being best not to overanalyze or it's as collaspsible as a house of cards. Flea's bass line is particularly in restless motion while remaining super funky, his brief solo jammy(and he also sprays his trumpet all over it). Still I'm a sucka for a couplet like "I don't know who was looking out for anyone like me or you/or maybe it was Siouxsie Sioux."
Unlike prior RCHP albums Unlimited Love is devoid of sterling singles and deep cuts, at least upon initial spins. However a few might have potential to change my mind, concerning the former.
"Bastards of Light" has its potential marred by a disastrous bridge which segues into some Nu-Metal-esque trivia with unwelcome rapping atop. It's as if Limp Bizkit were suddenly asked to reunite and contribute a cameo. Which almost ruins what comes before and after it: the verses with their 80's claustrophobic synth throbs, the choruses are acoustic guitar singalongs with an electric slide ghostly hinting of a superior song, "Scar Tissue."
Even better is "Let 'Em Cry." The hint of reggae or ska especially on the verses adds an unexpected charm (the trumpet/trombone part is even reminiscent of Burt Bacharach). The warmth of an organ, understated but superb in accompaniment, adds a warm and soulful bed of pleasure.
No masterpiece or masterwork is heard her, but it's a welcome return to form in 2022, at least for their fans. And been one since BloodSugarSexMagik. Particularly when Frusciante is aboard.