DURING JOE FRANCIS'S HEYDAY (2002-2008), when you could watch PG-13-esque infomercials on major American cable channels every night of the week, I never bought any of the Girls Gone Wild dvds. I certainly wanted to see girls gone wild–which was not part of my lifestyle then or now, alas. I was not against girls gone wild, in any medium. And since this was slightly the era before illegally downloading porn and other such material became feasible, the Girls Gone Wild franchise was a severe fiscal temptation. Girls Gone Wild, the title said it all. The vicarious, voyeuristic fantasy of many men, some women, and certainly not all of them incels. But I never ordered one Girls Gone Wild title because even then I could not stomach Joe fucking Francis.
I can't remember if the (sexiest) slur "douchebag" was in circulation then, probably was, since it was the first insult I could unhurl invisibly at Francis. And powerlessly.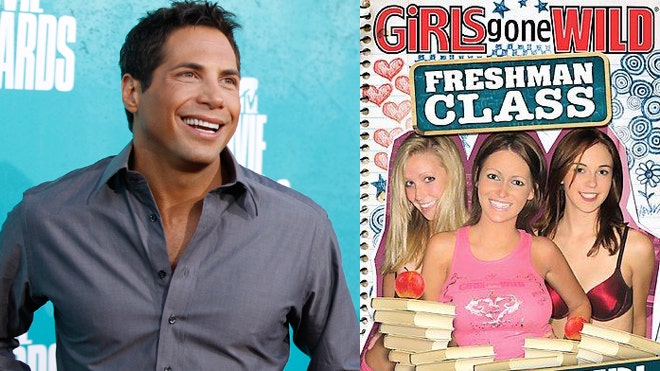 Looks matter. Everyone knows this. Looks really matter. And the varieties of biases we individually, then collectively construct responses to them. Everyone knows this, yet because of societal mores and our external need to pretend that we are morally/ethically better than we really are, we pretend to the other. We pretend that first impressions of others isn't affected by the biases we have accumulated by the time we see person A or B.
Joe Francis looked like to me a "douchebag," some smug "frat boy" or the bully of your childhood who grows up remaining a louse only now he's uber-successful and the life of the party. And seemingly irresistible to young, nubile females you would covet for carnal purposes.
I never bought any of the GGW titles because Francis was central to so many of the clips culled for television promos. He was the mc of his own productions. Fair enough. But the clips reeked of his smarminess and other traits of "douchebags." You understand this was his life, his world and he was king of it. He was playing seductive jester to the dopey girls who bought into his schtick, yet to the discerning eye he was the ringleader to a bunch of dopey white collegiate-aged girls, who were certainly intoxicated. 
I can't remember if I had yet to be exposed to "gonzo" porn–which is the same concept as GGW only the girls are porn actresses and the annoying, obnoxisous male lead has sex with them. The concept is the same: a reality series about a studly dude and the bouncy, dumb broads who flock around him, who can't wait to show him their bodies, who can't wait to sexually show off in front of the cameras. Sexting and selfies before their time.
Nothing about Francis appealed to me. That his life was feasible made him even more loathsome. Spite, jealousy, but also a repulsion of his personality. I didn't have many friends, but none of them were douchebags. Nor did I hang out in the right type of bars or have the money to go to the places where the likes of Francis would recruit all those girls, girls, girls. They wouldn't have been interested in me even if I dared. I was then and now the Hermit of Mink Hollow, a wallflower at best when socializing. But I didn't have even sympathy for the girls gone wild. If they were dumb enough to be seduced by the likes of Francis well a pox upon 'em. Fuck 'em.
Girls Gone Wild Exposed, part of TNT's new "Rich & Shameless" expose series, is the usual television bait-and-switch hatchet job. Self-serving moralizing and condemning the obvious villain while shamelessly and endlessly unspooling all the original exploitative material the villain had provided in the first place. This ubiquitous formula of programming, from local news to documentaries and docu-dramas, pats itself on the back for uncovering the foul deed(s) the subject matter perpetrated often on innocent young women while in the name of "journalistic integrity" rubbing the viewer's eyes with all the details. 
The only spark of deviation in Exposed occurs in the opening scene when the narrative makes a stunning and correct argument that Girls Gone Wild may have sprung from, been inspired by and had a zany visual affiliation with the more vanilla E! Channel series, Wild On… Hosted by the exotic bombshell Brooke Burke–one of the sex symbols of the late Nineties, who shared with Cindy Crawford the dual characteristics of being both one of the more beautiful women on the planet yet possessing the sheer likability and normalcy of "the girl next door"–the series had Burke travelling all around the world, often interviewing vivacious young women in bikinis.
One of E!'s first big hits, the travelogue was glossy, escapist, sexy but not offensive. Francis was surely watching (hell, I watched for Burke, but I can't remember any of the episode) and may have picked up some pointers.
Other than some new truly unsettling  revelations on how psychotic and violet Francis may be–you know you have to be a psycho when your own aging parents take out a restraining order against you and have it granted–the hatchet job proceeds as expected.
It's easy to depict Francis as a monster: a violent, despicable exploiter of women; an alleged rapist; a serial criminal (he's spent time in jails and prisons for matters other than filming pornography), a slimeball whose archival footage is its own best witness to the depths of his debauchery.
What the episode–directed and edited by women– doesn't possess is any interest in examining the behavior of all those women who appeared in the series, drunk or not, who were willing for their 15 minutes of fame. It's just passed off as "youth" and "bad" Joe Francis that so many of these young women had so little moral inhibitions about flashing strangers and "hooking" up with whomever on film. 
This conforms to the purposefully limited view of "victimhood" sans any modicum of personal responsibility upon certain ascribed groups like Blacks, gays, women et al. Political correctness and "cancel culture" dictate that these groups are above reproach (as long as individual members of said groups do not violate radical liberal mores) and that any discussion of collective dysfunction among said groups is "racist" or "sexist," "misogynist," "anti-semitic," "transphobic" or "homophobic." 
This documentary doesn't have the "cojones" (pun intended) to examine the weaknesses of these women who Joe Franics supposedly preyed upon. Absolving the underage women who appeared while still minors in the series,; one of whom agreed to identify herself for the documentary, the film is hardly curious about their psychological makeup. Yes, they want to know why Francis is the way he is, but not the typical "girl gone wild." What is up with the legion of these women who act the way THEY act? To demand answers is of course to be labelled a "misognyist." 
While I couldn't muster any Christian compassion for the women interviewed about their past, the episode deepened my anitpathy towards Francis. I was infinitely more unsettled by the credible allegations of Francis as a woman-beating psychopath than any of his past life as a pornographer. There's a very damaging audio clip from the mother of his children. Yes, Francis was secretly recorded and against his consent, but unless the woman paid to have the phone recording doctored it is what it is.
Like many American criminals over the centuries Mexico has been a fantasy projection of where they should flee to escape American justice. Unlike most of them Francis made it to that Mecca. He currently resides in a luxury resort he owns (and where he is visited by his celebrity pals, including Mario Lopez, Kim Kardashian and Kanye West, which tells you all you really need to know about them). He can't be extradited to the United States over a misdemeanor charge but he's already served time in Mexican prison for domestic violence. 
What a surprise.